Oh
Iceland
, I'm sorry, I know I hast forsaken thou!
I have total start-itis right now...there's about 50 things it seems like I want to cast on for, forever thwarting any progress I can make on Iceland.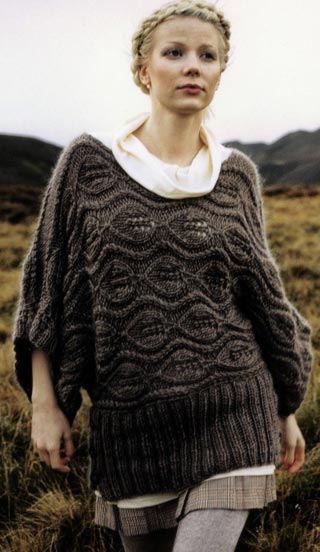 The task of her is just too daunting right now, especially when I know that when I'm finally done she'll be too warm to wear. So for now, alone she sits with the same
one
repeat of the pattern done.
Ironic isn't it --especially in light of the extra what? 70 cms of snow since my last post?
Here's an aerial before/after shot of my balcony right now:
aye yi yi.
So yeah, the whole city was pretty much housebound all weekend. We did groceries on Friday night and it was like Xmas...people seemed to think the sky was falling and there was nothing on the shelves. The city had a NO street parking ban on the downtown core all weekend. That has never happened before. The streets were eerily still and quiet (and pretty with all that snow!). The few people who *were* trudging though it looked like zombies, plowing slowly down the middle of the streets since there were no longer any sidewalks.
So what's a girl to do but watch movies and knit all weekend?
From the amount of "neck" related paraphenalia I've knit lately I COULD have completed an entire sweater by now.
another giant cowl:
(I'll get more photos and the deets on that later..)
and the
Herringbone Neckwarmer
done.
Done in gorgeous
Manos
kettle-dyed wool (in colourway:
Flame #115
). See ravelry for all the gory details on trying to figure out this stitch pattern. Once it made sense to me it was easy-peasy...prior to that, well, let's just say you would not have wanted to be in the room.
You know, I hate to be one of those people who endlessly posts the cat + yarn pics but well,
I guess you're just gonna have to get used to it.
Other things I'm currently about to cast on for:
(actually this one is already cast on --thanks
Julia
for finding the pattern. Tell me-- do you ever wear this thing? I have half a pound of School Products cashmere itching to become something (other than a scarf...) and I'm giving this a whirl. I know "shrugs" are kind of over, but I'm hoping that "vintage shoulderette" will still be passable. (at the very least it'll work for
TOR
and/or
EW
...)
I'm also hoping to stash-bust with these babies:
AND stash-bust for this:
and still MORE stash-busting:
Finally --something to do with all that Kureyon in the stash. Here's what I've decided (for myself) about Kureyon: it's ugly. For the life of me I haven't really been able to find a use for it. No, I shouldn't say that--it's not ugly...just way too colourful for me. But in that purse--I love it! (also what is up with me an knit purses lately?).
Anyway, that said, anyone willing to part with the pattern for that Counterpane bag would really help me out, (and save me from buying yet another book chock full of patterns I will never use) --I'm willing to trade of course for anything from my (massive) pattern library. It's from
Handknit holidays
--any of you have this book and willing to scan me zee pattern?
I am officially giving myself props for even coming up with stash-busting ideas. I'm getting serious about that particular new year's resolution. Twice this weekend I had things "in my cart" at both webbs and elann.com and I somehow managed to not click the paypal button. That kind of restraint for me is essentially unprecedented.
Now --go shovel people, the bus is starting to anger me!