AAAAAAAHHHHH, it seems I can't get this post up fast enough for people on ravelry! I logged in there this morning to about a dozen questions about it, so I guess I should get a move-on! I'm a bit of a creature of habit when it comes to what or
how
I like to do things on the internet. I will generally upload any new photos onto flickr on a Sunday evening as my weekend is winding down, throwing those photos into ravelry while I'm at it. It's usually at least a day or two later before I blog about said object on my lunch-hour or whatever, let alone get all my links and stuff up to speed. Sorry folks!
So that said, here she is:
pattern: Iceland by Stephanie White from
Rowan #42
yarn: Rowan
Cocoon
in Tundra (808) 8 balls (merino & mohair) for size M
needles: 7mm
Ok, so this sweater is probably at least five months in the making. I knit ONE repeat of the pattern and then put it down for 4 months. I started to question whether I would ever pick it up again and finish it. But then I did, and it just seemed to fly off the needles from that point on. And I guess given that, it really was a pretty quick knit-- chunky yarn, big-ish needles -go figure.
The problem with chunky yarn?:
(image deleted)
I can't decide if I am as big as a house in this thing or what. Granted I am being deliberately droopy here to prove a point (where are my shoulders?), but still --what should I expect from a pattern that is essentially a rectangle, knit in bulky yarn. In retrospect, knitting a size small would have also been a better way to go. I checked and re-checked my gauge, but on something not very fitted, I should have likely gone the other way with it.
And here's something I don't get --the photo of it on the model --who is likely what 6 feet tall 120 pounds? Seems bigger --defintely longer --even the ribbed bottom band has THREE buttons (which I don't think any of the sizes in the actual pattern ever called for --mine has two) and seems just generally longer in the body.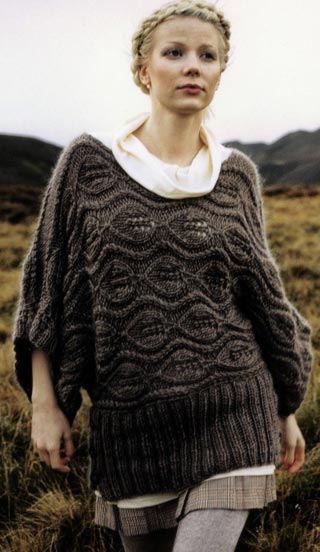 Is it possible they've actually done a larger size on her? I find this strange. Maybe they have all the extra fabric clipped in behind her? Maybe they just made the ribbing longer?
This may also mark the first time I've used the exact same yarn in the exact same colour the pattern called for. So to say that this is the most expensive thing I've ever knit would be wholly accurate. I'm sure it's not as a big a deal for some of the more serious knitters out there to spend well over 200$ on supplies for a sweater --but for me? I get the cold sweats just thinking about it. (Good thing I have this ENORMO sweater to warm me up).
Though I must say that Rowan Cocoon is everything that people say it is--it was amazing --goregous, soft, no sudden splits/ends in ANY ball. I had zero yarn left over. In fact I still technically had about three more rows to go in the back bottom ribbing when I ran out of yarn completely. I wasn't about to buy another ball for it though so I just cast off and called it a day. It's still totally even at least (and no yarn bits clogging up the stash!). The one down side? My relentless sneezing. I am totally allergic to this yarn/sweater (the mohair...). Mind you I don't generally let that stop me as I'm allergic to ALL animals but still insist on living with two cats (and a hairy BF heh heh).
It's kind of looking a little more grey in these photos than is accurate --I'd say it's more of a brown/taupe.
(image deleted)
The super-duper bonus to this sweater? Minimal seaming--under the arms and that's it. Also because the yarn itself has good yardage and no knots there weren't all that many ends to weave in at the end either. Hooray for minimal-effort finishing!
Holding down the batwings keeps me from flying away.
So, in the end I guess I give it a thumbs-up. I question how much wear I will get out of it though. Rowan sweaters for the most part always seem to be made for roaming the moors of England in the damp when all you really want to do is wear-a-wool-sweater-as-a-coat. Which is all well and good but doesn't
really
translate well around these parts --hot summers, a fall that seems like it's a week long, and then a REAL winter with both coats AND sweaters. Trying to cram those bulky sleeves under my winter coat may prove somewhat of a predicament...
Though I suppose if all else fails Archie is more than happy to take it over as one hell of an expensive (though warm and cushy) cat bed.
God love his relentless need to ruin every picture!