Anyone else see this?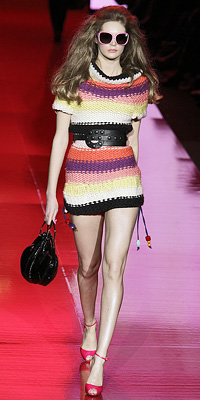 Twinkle's
contribution to the Barbie 50th anniversary
fashion show
during New York fashion week. I guess this might be old news, but I only just saw that picture (and being touted for fall '09?)
I was thinking the other day that a chunky/speedy knit might be in order for me soon and that I should re-visit those Twinkle books again. Then I saw that picture and thought "ok if the Barbie-esque model is making that thing marginal, what hope do I have?" Still, I can't help but be drawn to her stuff over and over again.
It is nice to see something a bit "sunny" in terms of knitting right now, especially in the midst of this sea of navy of mine (
fortunately
drawing to a close...)
(this pic is pretty washed out...)
It dawned on me as I was attempting to sew this together the other night that I could not see a FREAKING thing I was doing. A combination of dark yarn and a poorly lit living room begat an impromptu trip to Ikea in the hopes of finding some kind of knitting specific wall sconce so that I could actually knit every evening without somehow relying on "intuition" or "the force". I am not too proud to tell you that I strapped a headlamp to my head just to get started on the seaming. Who knew those things could be as useful for fiberarts as they are for "spelunking". (yeah, I just busted out that word pffft.)
And still more blah-coloured knitting:
At this point I am
already
itching to start something new.